Celebrating Shakespeare
Ridgefield Library and Partners Present: Celebrating Shakespeare
April and May 2016
This spring the Library, along with other community partners, will commemorate the 400th anniversary of William Shakespeare's death with a series of lectures, perfomances, film screenings and more.
Contact: Lesley Lambton, Adult Programs Director, 203-438-2282 x 11013, lalambton@ridgefieldlibrary.org
---
Library Materials | Programs & Events | Program Sponsors & Partners | Recommended Links
---
Programs & Events
Featured Events:
April 2016
Wednesday, April 6
7 PM @ Ridgefield Library
Lecture: Shakespeare's Major Tragedies
with Dr. Mark Schenker

Shakespeare wrote four plays between 1600 and 1606 that are considered the height of his achievement in tragedy: Hamlet, Othello, King Lear and Macbeth. In April— 400 years to the month after the playwright's death— Mark Schenker of Yale College will lecture on this quartet of plays, both as a group and with some attention to the distinctiveness of each. Among the topics he will consider in his presentation: the tragic view of life, the nature of the tragic hero, the interconnectedness of good and evil, and the ways in which Shakespeare employs theater as symbol and metaphor.
Participants do not have to have read the plays in advance, but reviewing the plots in advance of the lecture will enhance your appreciation of the talk. 
click
here to listen to the lecture
---
Wednesday, April 13
3 PM & 7 PM @ Ridgefield Playhouse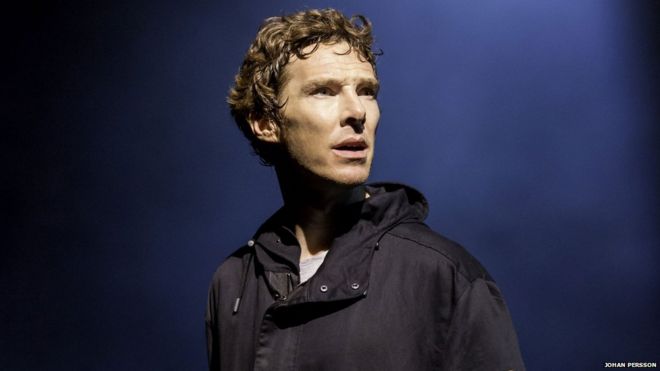 Hamlet - National Theatre Encore Performance in HD starring Benedict Cumberbatch
As a country arms itself for war, a family tears itself apart. Forced to avenge his father's death but paralyzed by the task ahead, Hamlet rages against the impossibility of his predicament, threatening both his sanity and the security of the state.
Academy Award® nominee Benedict Cumberbatch (BBC's Sherlock, The Imitation Game) takes on the title role of Shakespeare's great tragedy. The film is directed by Lyndsey Turner and produced by Sonia Friedman Productions.

$10 Adults/Students Free - Information and tickets at ridgefieldplayhouse.org
---
Thursday, April 14
3 PM @ Founders Hall

Founders Hall Book Discussion: Shakespeare: The World as Stage
by Bill Bryson
William Shakespeare, the most celebrated poet in the English language, left behind nearly a million words of text, but his biography has long been a thicket of wild supposition arranged around scant facts. With a steady hand and his trademark wit, Bill Bryson sorts through this colorful muddle to reveal the man himself.
Facilitated by Assistant Director Mary Rindfleisch, this session is open to members of Founders Hall.

No registration.
---
Saturday, April 23
11:30 AM  @ The Prospector Theater
ShakeSPHERE's Romeo and Juliet
SPHERE, whose mission is to improve the quality of life for adults with developmental disabilities, has written, produced and released a film of Romeo and Juliet starring its developmentally disabled actors. Romeo and Juliet, who both have Down Syndrome, and 22 supporting actors fill various roles of Montagues and Capulets. This movie showcases what adults with developmental disabilities can achieve and accomplish. In 38 minutes, it tells the tragic story of Romeo and Juliet and remains true to the original. SPHERE's goal is to share its film with as many people as possible to highlight the abilities of its members, and the special people in communities throughout the world.
Tickets $5 - Information and tickets at prospectortheater.org
---

Saturday, April 23
2 PM @ Ridgefield Library
Shake-Scene with actor Stephen Collins

Actor and teacher Stephen Collins will bring Shakespeare's tragedies, comedies, histories, and sonnets to life as he performs as King Lear, Edmund, Iago, Prospero, Bottom and many others.
Collins will begin his performance with a celebration of Shakespeare's lasting effect on the English language.  Shakespeare created over 1700 common words that before him were either used in a different manner or didn't exist at all. He did this by changing nouns into verbs, changing verbs into adjectives, connecting words never before used together, or just by creating entirely new words.  Join us to hear Shakespeare's wonderful inventiveness in action!
Please register
---

Saturday, April 30
2 PM on the Library Lawn
Beatrice and Juliet - Vignettes from Much Ado About Nothing and Romeo and Juliet with the Barefoot Shakespeare Company
Meet Beatrice and Juliet, two of Shakespeare's women in different stages of life and love.

Founded in 2012 by Emily Gallagher, Courtney Moors and Rob Sniffin, Barefoot Shakespeare Company is a new group with an engaging and modern outlook on the works of the Bard. Barefoot Shakespeare Company is dedicated to bringing Shakespeare's work to a wide, diverse audience. The company strives to create work that is grounded, accessible and applicable, dissolving the divide between spectator and performer.
No registration.


---
May 2016

Wednesday, May 18
6:00 - 7:30 PM @ Ridgefield Library
Reading Is a Family Affair
Shakespeare's Secret by Elise Broach
Reading Is a Family Affair is a popular book discussion group for children in grades 3-5 and an adult family member. In celebration of William Shakespeare, we will discuss Shakespeare's Secret by Elise Broach. Register online here and then stop in Children's Services and pick up a free copy of the book. The books will be available for pick up at the Library beginning April 11th. A pizza dinner will precede the book discussion. This event is sponsored by the Friends of the Library.
---
Program Sponsors & Partners
Celebrating Shakespeare programs are made possible thanks to the Friends of the Library
Partners
Books on the Common
Founders Hall
Prospector Theater
Ridgefield Playhouse


---
Library Materials
Circulating non-fiction materials, most reference books and non-fiction DVDs are shelved together in the stacks. Fiction titles and audiobooks on CD are in the Fiction Room. The author's work is also available in Ebook versions that are available for download from several websites.
---
William Shakespeare in the News: Recommended Links
Guides to the plays (plot summaries, thematic discussions, character analysis, etc.), quotes, critical essays, biographical info, questions and answers, all in an easy-to-navigate, searchable site.
Provides listings of public events, library resources including the library's catalog HAMNET, information about publications such as Shakespeare Quarterly, and about educational programs for teachers and students.
Frontline: The Shakespeare Mystery
Debates about who wrote Shakespeare have been prominent in Shakespearean scholarship for centuries. This site from PBS, based on a Frontline special, explains the issue.
"Welcome to the Web's first edition of the Complete Works of William Shakespeare. This site has offered Shakespeare's plays and poetry to the Internet community since 1993."
Information on the man, his works & his times, as well as play synopses, a copy of his will, a reading list, and a noteworthy section on Shakespeare's language.
This site is divided into ten "books", each of which in turn is divided into "chapters." Categories include: Shakespeare's life The stage Society History and politics The background of ideas The drama Literature, art, and music Some plays explored Reference and indexes.
The Sonnet Project is a completely crazy idea dreamed up by Ross Williams from NY Shakespeare Exchange. 154 sonnets, 154 NYC locations, 154 actors. It's a tapestry ofcinematic art that infuses the poetry of William Shakespeare into the poetry of New York City.
---
Ridgefield Library | 472 Main Street, Ridgefield, Connecticut 06877 | 203-438-2282 | Directions